The 2015 wave of refugees had touched me too and I wanted to help. After I visited refugees in Austria with my dog and found out that they are absolutely friendly to animals, contrary to the widespread image, I decided to act according to the principle: "A cobbler should stick to his last". German lessons and donations, that I had already done was not really what I wanted to do. And my animal welfare association Robin Hood is always helping in the countries themselves, trying to make a change there. In Romania, Hungary, Armenia, Siberia, Greenland and recently in Iraq.
I wanted to help the refugees escaping with their animals and met Dr.Salaiman Tamer Saed with his association KOARP, Kurdish Organization for Animal Rights Protection. With him I was traveling for a week and was allowed to experience the hospitality of his family and the Kurds in general.
We went to the zoo, bought some birds from the animal markets, and released them in the beautiful scenery around Duhok, saved a critically ill cat from the animal market … we found a dead sheep, dead puppies; the horror everywhere in a country that is always at war again and again.
Sulaiman impressed me a lot and also the Kurds in general. Sulaiman is fighting for the animals day by day; with the help of Robin Hood he can buy food and everything necessary. He visits schools and also visits the zoo with the children. He lectures at the universities.
Sulaiman and I will hold workshops for pet store owners and animal markets.
We want a ban on wild caughts (removal of wild animals from nature).
We are working on an animal welfare law for the region.
Kurdistan in Iraq has inspired me, in spite of war and danger. I'll be back, because animal welfare is borderless and must also overcome wars.
Our project partner and veterinarian Sulaiman is on the road every day. He helps stray animals, castrates, treats injured wild animals, goes to the zoo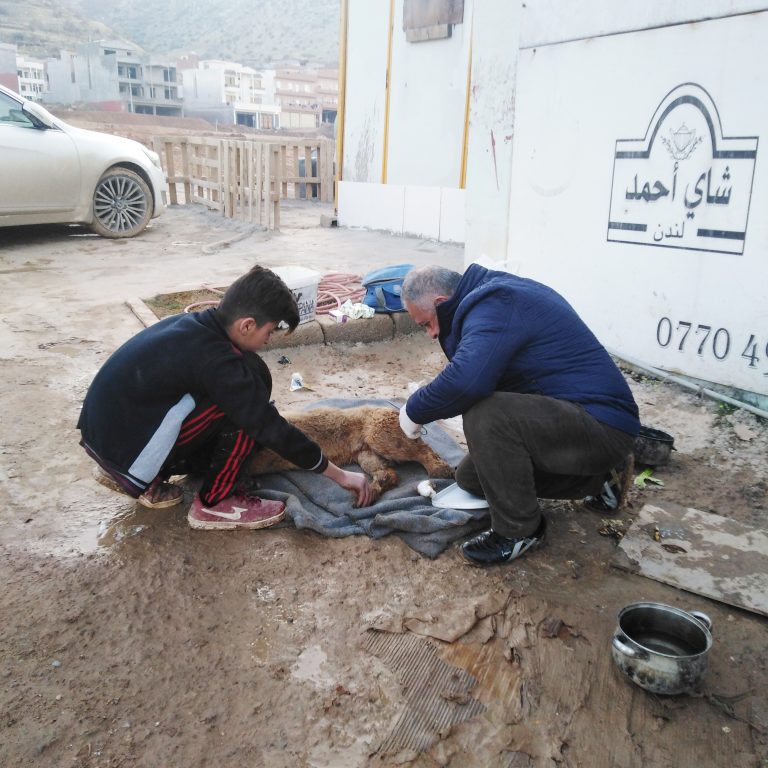 That means that Robin Hood not only helps when it is acute, no, we help permanently and in countries where animal welfare is still a
April 2016
Travel to Kurdistan/ Iraq
Personal meeting with Dr.Sulaiman Tamer Saed, who is our project partner on site
May 2016
The feedings of the strays continue.
July 2016
Animals were castrated.
October 2016
World Animal Day is also celebrated in Kurdish Iraq, Sulaiman goes to schools and distributes leaflets on species-appropriate husbandry.
February 2017
Sulaiman and Robin Hood helped with food and the cleaning of the enclosures for the remaining bears and lions in the zoo of Mossul.
Another animal welfare organization could later bring them out of the country.
October 2017
World Animal Day in Kurdish Iraq.
Flyers on animal welfare are distributed, animals are released from the animal market and liberated.
November 2017
Humans and animals are refugees in Kurdish Iraq.
Sulaiman and his organization KOARP and also Robin Hood are helping.
100 water troughs and water are brought here. Without them these animals would have died.